Modern Furniture Finishes & Furniture Care Tips
By:ARTSOME
2022-11-14
153
1. Introduction of Modern Sofa Features Details
1.1 Leather Sofa
Artsome leathers are typically aniline, ensuring that the natural richness and feel of the leather's original surface that is maintained and celebrated as much as possible. Real leather is a natural product and will often bear the hallmarks of its origin. Characteristics including scars, branding marks, wrinkles and areas of grain variance are not detrimental to the durability of the product. We emphasize that authentic hides have been used rather than printed reproductions. Artsome leathers do not employ the use of covering pigments, so they may acquire marks or color discrepancies through wear and tear, for example, when coming into contact with seat bag or studding. This is normal and will enrich the leather's character and individuality over time.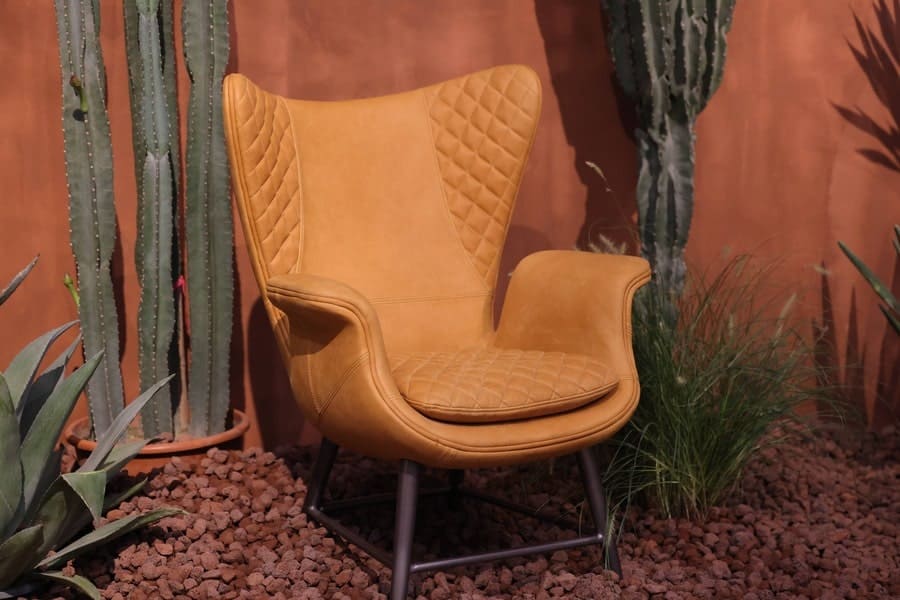 Artsome luxury home furniture offers a variety of leathers with different textures and finishes. It is important to note that softer hides may well develop wrinkles and creases during their first few weeks of use. This is normal and not a cause for concern. In the same way that new shoes need some breaking in, so does your vintage leather sofa or chair. Handcrafted leather is naturally elastic and will stretch with use, which is not a defect but an inherent natural characteristic of leather.
Each piece of Artsome leather maintains its natural pigmentation, which means that no classic leather sofa or armchair is exactly the same, making it very unique to our customer. The beauty of our top grain cowhide leather also means that it breathes easily and wears for longer, so you can enjoy it for years to come. Artsome high end home furniture is often decorated with stud showing its vintage style. Well-made vintage leather furniture is an investment, and with a little bit of care and attention it can last for generations. We offer the following advice to help you care for your vintage leather furniture.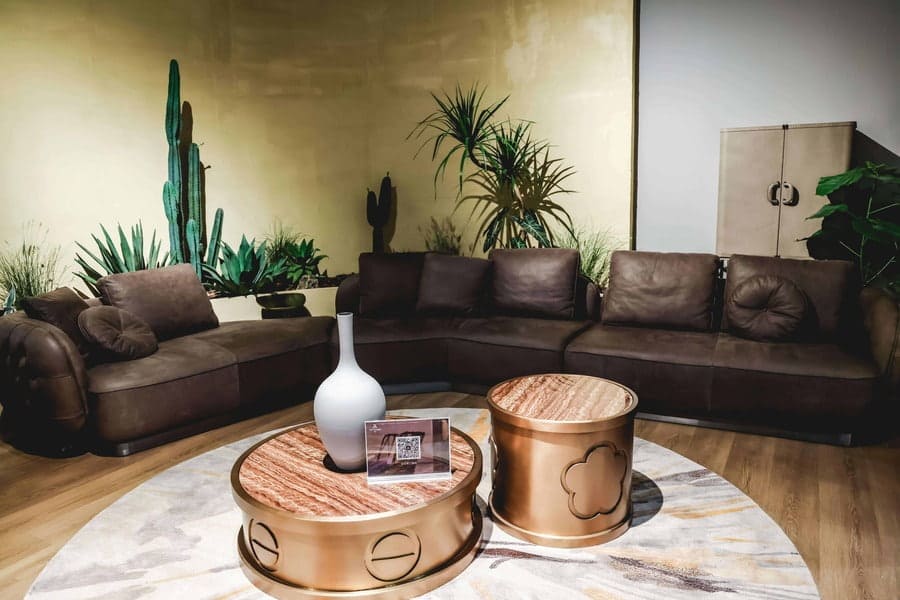 General Maintenance of Leather Furniture
a. Periodical cleaning: Lightly dust and vacuum occasionally or use the clean & soft fabric in gently wiping. The best way of cleaning the long-term dirt as: firstly, use the warm water to dilute the litmusless cleaner (1%-3%) and wipe, than wrest the fabric and wipe the cleaner, the last use the dry fabric to wipe shiny, after whole drying and use some leather cleaner to wipe.
b. Do not place your vintage leather furniture too close to direct sources of heat (i.e. radiators, fires, etc), as it may cause it to crack and age prematurely.
c. Do not place classic leather furniture in direct sunlight as this will cause the furniture (both wood and leather) to fade or crack. All leathers will fade over time, but darker colors may fade faster in direct sunlight.
d. Avoid sharp objects on upholstered furniture which may snag the handcrafted leather.
e. Avoid sitting on the arms, back or very edge of your vintage leather furniture as this may cause distortion and/or damage.
f. Be aware that clothing with transferable dyes, such as blue jeans, could transfer the dye onto light-colored classic leather furniture.
g. Do not put any acid on the handcrafted leather, because of its leather character and natural oils painting, it doesn't contain any chemical material inside the leather to dissolve the acid.
h. Wipe up spills on studded leather immediately using a clean dry cloth.
i. Do not clean the studs with bleach or any detergent containing sulphuric or hydrochloric acid.
j. Avoid the use of steel wool or scouring pads as this will scratch the metal.
1.2 Fabric Sofa
Fabric sofa mainly refers to the main material is fabric, through artistic processing, to achieve a certain artistic effect, and to meet the needs of people's life. This kind of sofa has good air permeability and is anti-allergy, easy to clean. The elastic material quality of a fabric sofa affects the sofa comfort and service life. Therefore, elastic materials should have strong pressure resistance, good elasticity and high density. Artsome textiles include a wide palette of upholstery and cushions. From the sumptuous glamour of velvet to the relaxed feel of cool, fresh linen. Artsome textiles offer a luxurious and tactile experience, exquisitely crafted and beautiful to the touch.
The perfect upholstery fabric has a small amount of stretch, to allow the fabric to shape smoothly around the curves of arms, and corners of backs. At the same time however, it is very important that fabric is dimensionally stable and has good shape retention so it will stand up to years of use. When looking for a good quality weave, it would not be too stiff or too open a weave, but somewhere in between. The main types of fabric used in upholstery are linen, hemp, cotton, velvet and wool. We'll go into a bit more detail about each of these below.
1.2.1 Linen and Hemp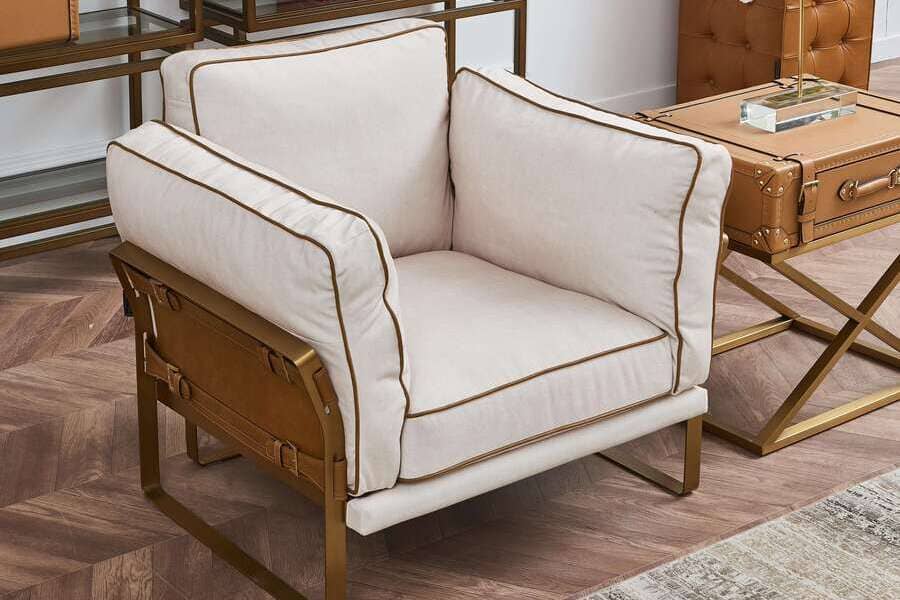 Linen and Hemp have very comparable qualities when used for upholstery fabrics. Hemp fabric is often slightly heavier, and like linen requires very little water to grow. Hemp is actually one of the oldest fibers used for textiles and it's excellent for the environment. Both linen and hemp fabrics are woven and are perfect for upholstery. Inherently robust, these plant based fibers tend to have a nice amount of stretch and a tiny ecological footprint. Artsome linen has a solid, thickly-woven texture that feels extremely soft to the touch for a casual yet luxurious look. The most charming thing of linen sofa is its good thermal conductivity. Even if it's a hot summer day, there's no need to worry about sweaty, sticky conditions. The texture of linen sofa is tight with a kind of simple and natural temperament. It is wear-resistant, fadeless, and not easy to fold. It also can not afford to ball, and do not produce static electricity.
1.2.2 Cotton
It is derived from cotton seed fiber, through the procedure of picked processing, ginning, carding, piecing, combing, spinning, worsted into cotton yarn and finally woven into cloth. Its advantage is strong moisture absorption. Cotton fiber is porous material, so the internal molecular arrangement is very irregular, which contains a large number of hydrophilic structures. Cotton or cotton mix weaves are also a great choice for upholstery. Cotton fabrics tend to be very strong and durable, it is for this reason cotton is the primary fiber used in sewing thread.
1.2.3 Velvet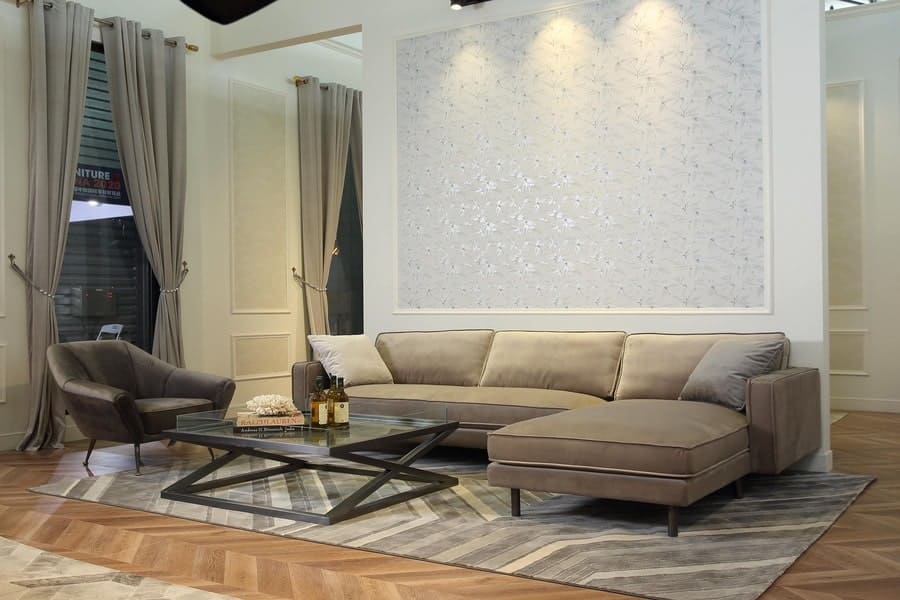 Velvet sofa gives a person the most profound impression lies in its super delicate, gentle touch. Fluffy fabrics are also commonly used in interior decoration, such as velvet or plush fabrics. One thing to keep in mind if you're interested in velvet furniture, is that cotton velvet, while absolutely beautiful and soft, marks very easily and the pile can become flattened if mistreated. A classic velvet sofa with a viscose mix is lower maintenance, and will spring back much more easily. It has fashionable appearance, good color rendering effect, and is dust-proof, anti-fouling.
1.2.4 Wool
Wool is very versatile, and may be traditionally woven, or woven into a twill, which is a slightly different weaving pattern resulting in the characteristic twill diagonal patterning. Felted woolen fabrics are common too, these are more technically known as stitch-bonded wool. These fabrics don't have a weave and are lovely to work with because they are easy to fit around all the curves and shapes of any furniture design. Wool is excellent for upholstery, naturally fire resistant, and overall fairly sustainable.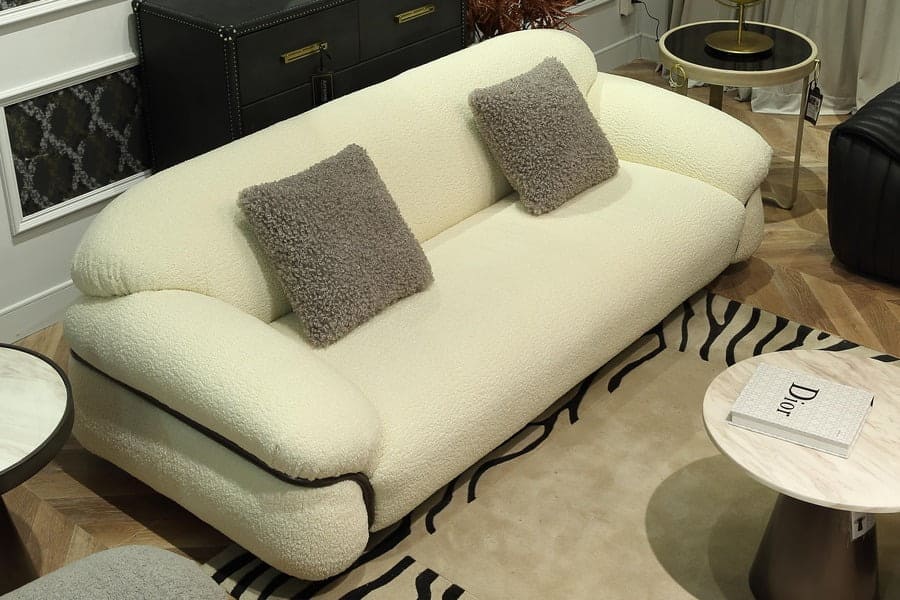 General Maintenance of Fabric Furniture
a. Spot clean using a mild, water-free solvent or dry cleaning product and follow the manufacturer's directions. Water-based cleaning products may create water stains.
b. A very soft brush (such as a baby's hairbrush) can be used to brush the nap of the upholstery while cleaning.
c. Note, the color of the velvet upholstery may appear to change depending on the direction of the nap and the angle the product is viewed from.
d. No touching impregnant and others caustic things, or high temperature roasting, no touching fire & edge things.
e. Furniture with slipcovers: The slipcover should be removed and professionally dry-cleaned.